The Thunderbirds are going to the Calder Cup Finals! If you are interested in going please consider going Friday, June 24th (game 4) – St. Stanislaus School Night. More information in the flyer below. Thank you for supporting our school!
A huge thank you to our Golf Outing Participants and Sponsors!  Thank you for supporting Catholic Education!
2022 Golf Outing Ad Booklet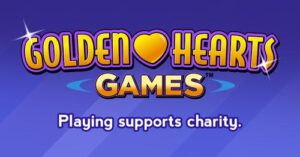 Did you know you can help support St. Stanislaus School just by playing your favorite online games? Golden Hearts Games is more than just Bingo! Right now there is a 2X sign-up bonus. 100% match on your first donation and you keep the cash prizes! To learn more visit their website.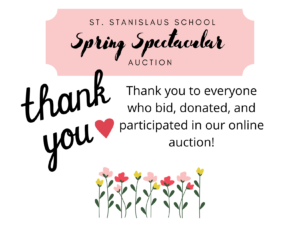 Click here to view the catalog!
Order deadline is March 20th for free shipping to school. Click here to order.
Save the date for the 2022 golf outing!  Click here for registration form. 
We will be hosting a Scholastic book fair 1/31/22-2/4/22. Book fair flyers will go home with students on 1/26/22. Students who bring in money will be given the opportunity to shop once. If you wish to have your student shop, please send them in with cash or a blank check made out to St. Stanislaus School and Mrs. Bannister will send home a receipt. Please include a note with instructions for your child's shopping. Money should be sent to school 1/31/22 in a small bag and labeled with the students full name and homeroom.

Our hearts are full of appreciation thanks to Adam Quenneville Roofing! Their generous hearts donated some much needed supplies for a new shed needed at the school. Big thumbs up from all of us at St. Stans…especially our PreK 4 kids! Thank you Adam!
Make sure to check them out for all your roofing, siding, window and decking needs! 
School picture day is Friday, September 17th. Please read the guidelines for dress requirements on this day:
School Picture Day letter Sept 2021
Diocese of Springfield Reopening Guidance:
School Reopening Guidance 8.16.21
Information from the MA Department of Elementary and Secondary Education and Department of Public Health:
DESE_DPH COVID19 Guidance for Districts and Schools Fall 2021_July 30 2021
---
St. Stanislaus School's Chicken Barbecue on Sunday, May 16, was a wonderful success! We served over 350 meals for takeout. A special thank you to our school principal, Sr. Ceil Haier and her family who provided the Barbecue equipment, chickens, and began cooking their special family recipe at 5 a.m. on Sunday. Her brothers and sister-in-laws, who live near Buffalo, New York, were happy to travel to Chicopee to contribute in such a special way to help raise money for our school. We also thank all of our school parents and volunteers who made cookies, helped to pack and serve the meals, and organized traffic for pickup. We are so blessed to have such a wonderful school community!

Western Mass News Surprise Squad visits our school! Click here to view.
Congratulations to our 8th graders that won the Knights of Columbus essay contest for Catholic Citizenship!