Ways to purchase your brick:
Mail us your payment

-download the form and mail in your payment.
Looking for the perfect gift for a student, parent, or alumni of the school?  Take a look at our 125th merchandise!  There is a wide variety of items to choose from. Pictured are examples of one of the shirts you can purchase.  All merchandise will have our 125th logo on it. Click here to view catalog or to place an order.
Original School Library Chairs and 125th Anniversary Magnets
Would you or someone you know like to own a piece of St. Stanislaus School? We have original, solid wood, library chairs for sale! Order a piece of St. Stanislaus School History – re-stained surface with original 1975 furniture tag under seat. We also have 125th Anniversary magnets for sale. Either of them can be ordered by clicking here.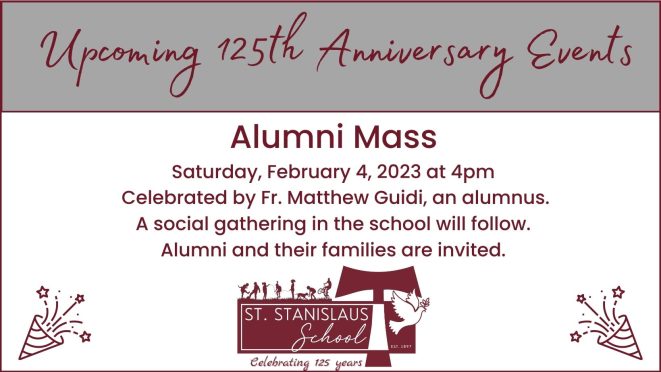 A heartfelt thank you to all who attended the 125th Anniversary Alumni Mass and made it so special. We are grateful to our celebrant, Fr. Matthew Guidi and those alumni who ministered as lectors, deacons, servers, gift carriers, and provided the music ministry.
The social that followed was filled with friendship, great food, laughter, and the sharing of many memories. We appreciate the school families, alumni, School Board, faculty and staff who provided the delicious food and helped make the event a huge success.
Blessings,
Sister Cecelia
Karen Shea