LETTER FROM THE ADMINISTRATORS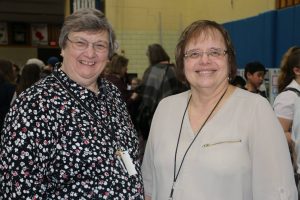 Welcome to the St. Stanislaus School website!  We have so much to share with you.  St. Stan's School is a PreK – 8th grade school. We are extremely proud that St. Stanislaus School has been accredited by the New England Association of Schools & Colleges (NEAS&C) since 1999. It is a testament to our firm commitment to provide children with an excellent education in a clean, safe, modern facility by a dedicated administration, faculty, and staff.  We continue the legacy of those families, who for over 120 years, believed in the importance of Catholic education.
As you can imagine, the task of providing a quality Catholic school education in 2020 is challenging due to the COVID pandemic.  We are blessed to have been full in-person learning since Aug. 24th. Although some of our events and activities have been limited due to DPH and CDC guidelines, we continue to provide our students the highest quality program, incorporating individual technology for all students, and procedures in place for remote learning.  We hope to bring our extracurricular activities back in the fall.
We continue to provide the safest possible environment following all protocols of social distancing, masks, hand washing, etc. The physical plant operates at a high level, with new HVAC systems and air quality upgrades.  The school building is thoroughly cleaned, disinfected, and sanitized daily.  Our safety protocol includes doors locked at all times during the school day, video recording cameras, safety drills, walkie-talkies, and supervision of students at all times.
We have an outstanding and experienced faculty who are certified in the age, grade level, and subject that they teach.  Their dedication and enthusiasm encourages success for all students.  
Enrichment classes include music, gym, computer technology, art, and library.  A foreign language is offered in grades 4-8.  A before and after school program is available.  Breakfast and lunch are provided at no cost.  We have a playground, science lab, full gymnasium, and cafeteria and kitchen.  
Please check out our website and see what we have to offer! If you have any questions, please call us at 592-5135 or email us at ststanis@saintstansschool.org. 
Blessings,
Sister Cecelia Haier, FSSJ
Mrs. Karen S. Shea
Administrators
Office Hours: 
Sister Ceil – Gr. 8 Math Wednesday 7:45am-8:10am
        Mrs. Shea – Gr. 8 Social Studies Tuesday 7:45am-8:10am