---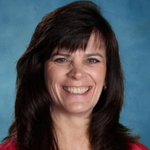 Office Hours: Monday 7:45AM-8:10AM
---
---
51st Iditarod Begins March 4!
Grades 4 and 5 students will be preparing to follow the Iditarod and choose their mushers to follow.  We are learning to take two column notes in Grades 4 while watching the Discovery video about the animals and terrain in Alaska.
Grade 5 students have been creating their American History First Thanksgiving Discovery Boards, and are now completing questions about the facts they learned from the Discovery Education Revolutionary War videos.
Our Kindergarten students have been working hard on their Teach Me Kindergarten app lessons on the iPads.  They are using other apps such as Lexia and STAR Testing to evaluate their reading and math skills.  They are using the Starfall app (www.starfall.com) to read "Groundhog Day," "Valentine's Day" and the "Snowman" stories.  They are learning very quickly how to take care of their equipment and become wonderful learners during Computer class.
Grade 1 students are working with an app called Seesaw to create Winter pictures.  Students are using other apps such as Lexia and STAR Testing to evaluate their reading and math skills.  These students are also working with the ABCya app (www.abcya.com), Khan Academy Kids lessons, and the Starfall app (www.starfall.com) to reinforce their math and vocabulary skills they are learning in the classroom.
Grade 2 students are creating beautiful "Winter" stories and pictures using our Seesaw and Wixie apps on the iPads.  They are learning to add text boxes and sentences with proper capitalization and punctuation on the app.  They are learning to use the drawing tools to create their pictures.
Grade 3 students have learned desktop publishing skills in Google Docs, such as moving pictures, moving objects from front to back, resizing objects and creating their own pictures and objects within Google Docs.  The students have learned how to better use Google Classroom with their Chromebooks this year.  They have learned how to create and edit their documents within Google Classroom.  They are also learning how to change their font, font color, font size, center their text, and insert pictures. Students are using other apps such as Lexia and STAR Testing to evaluate their reading and math skills.  Students are learning research skills by using an online dictionary website called www.littleexplorers.com to find answers to questions by identifying key words to help in their search.
Sixth graders are creating surveys for their classmates in Google Forms.  They will share their links with their classmates so that they can all take each other's surveys.  The students will learn how to evaluate their data and compile the data in additional formats such as Google Sheets by adding graphs from their data.  Students are using other apps such as Lexia PowerUp and STAR Testing to evaluate their reading and math skills.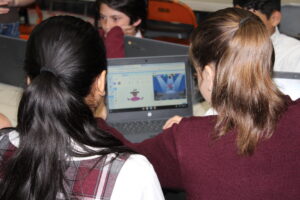 Seventh grade students have completed a research project on the history of Ellis Island, Immigration, and present day Immigration.  Students are collaborating on a Google slide presentation with partners by virtually contributing to the slide deck, and will create narrated versions of their slide presentations using Screencastify.  Students will now collaborate in groups to create video presentations about their research of Immigration.
Eighth grade students are designing their own houses or buildings and using the Sketchup for Schools program to create their designs in 3-D.  They will add construction materials such as windows, siding, and paint, and have added components to enhance their buildings.
Grades 3 through 8 are sharpening their typing skills using www.typing.com.  We will continue to have a variety of quizzes and tests to assess what they have learned, therefore, students will still need to take notes and keep handouts for studying.  All grades are based upon a combination of class projects, quizzes/tests, class participation and class behavior.
Websites for Students and Parents
https://www.internet4classrooms.com/grade_level_help.htm – Wonderful websites for K-8 based on subject area.  Many great websites to choose from
https://www.enchantedlearning.com/Dictionary.html – online dictionary with pictures – for students of all ages
https://www2.scholastic.com/browse/home.jsp – Scholastic website – for students of all ages
www.starfall.com – a beginning reading website for Grades K-3
www.abcya.com – Grades K through 6 website to enhance classroom skills through online interactive games and review, as well as holiday games.
https://www.khanacademy.org/ – Great resource for sample lessons in Math and Reading for Grades 2 and up.
https://www.akidsheart.com  – wonderful website for children and holidays
www.billybear4kids.com – wonderful website of games and activities for holidays (Be careful of some popups)
https://www.iditarod.com/  – Official website of the Iditarod
https://bensguide.gpo.gov/3-5/games/interactive.html – Ben's Guide to U.S. Government – great website for information about our government – all ages
https://www.colonialwilliamsburg.org/kids/games/ – wonderful website to learn about our history
https://www.ushmm.org/maps/  – Holocaust Museum and Google Earth – Grades 6 – 8 – Gives information through Google Earth about areas of our world affected by Holocaust
https://www.plimoth.org/education/olc/index_js2.html – Interactive website to learn about the First Thanksgiving
Science and Social Studies
https://www.howstuffworks.com/  – great website for the curious student
https://www.edheads.org/  – virtual science experiments
https://www.amnh.org/ology/  – wonderful science games and information from the Museum of Natural History
https://www.space-explorers.com/ – space exploration and projects for students
https://kids.discovery.com/fansites/tutenstein/mummymaker/mummymaker.html – interactive exploration of how mummies are made and their history
 https://www.nationalgeographic.com/history/ancient/index.html – interactive with videos about ancient history
Internet Safety
https://www.isafe.org/  – Internet safety website
www.netsmartzkids.org – Student version of Internet Safety website – National Center for Missing and Exploited Children
https://www.fbi.gov/kids/k5th/kidsk5th.htm – Internet Safety and other Government safety information for kids
Languages
https://www.babbel.com/ – learn a language
Catholic Websites
https://www.catholicvote.com/ – Catholic information about our government and voting
https://www.vatican.va/ – Vatican website
https://www.usccb.org/nab/index.shtml – United States Conference of Catholic Bishops website – daily readings and information
https://www.americancatholic.org/Features/SaintofDay/default.asp – Saint of the Day and information about saints
www.lifeteen.com A Catholic teen website to share the faith.